The Global City and the Global Village(s)
Unresolved Agenda in Linking Urban and Rural Telematics
Presentation of Franz Nahrada at the 4th European Digital City Conference
Salzburg, Austria, October 1998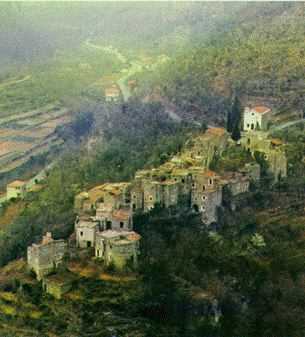 ---
The opening screen of the presentation: This is a portrait of Italy's most famous "Global Village",
the "lone eagle" project of COLETTA di CASTELBIANCO.

The presenter is director of a small institution in Vienna which combines research with networking activities: the "Lab GIVE" - Research Society for Life in the Global Villages. GIVE is an acronym for Globally Integrated Village Environment

GIVE is active since 1992 and was previously a department of the Center for Social Innovation, Vienna.

GIVE is acting as a catalyst organisation for social innovations possible and required by the potential of telecommunication and information technology. As this catalyst, it works as organizer of conferences and meetings.

Our main focus is sustainable development in its relation to information and communication. Information and communication are the most powerful tools to shape physical environments, and GIVE is devoted to the full comprehension of this power.

GIVE has created two major events: the Global Village Conference and Exhibition in the Vienna City Hall, and the recent ýCultural Heritage in the Global Villageţ (CULTH 98) event in the Vienna Museum of Modern Arts. It has produced research on Telecenters and Telework and also recently the first in a series of films about this subject.